DESIGN/TABLE CULTURE: Functionality meets aesthetics
As a design object and stackable table service in one, La Boule impresses with its perfect symbiosis of functionality and aesthetics. Disassembled into individual parts, the porcelain sphere consists of two bowls, shallow bowls, universal plates and a serving plate made of premium porcelain and compactly combines a service for two people. Put together, the result is an exclusive design object that impresses both on the table and in the room – perfect for small apartments and as an eye-catcher in large rooms.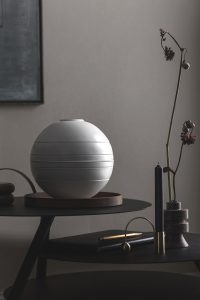 Four decors – four styles
The four looks each set individual accents: La Boule black and La Boule white convince with subtle and elegant design, while La Boule black & white plays with contrasts. La Boule memphis presents itself as a true design icon with its design-strong Memphis decor.
The two discreet La Boule versions in black and white impress with their elegant simplicity: both as a glossy version in white and with a matt surface and natural feel in deep black. Colors and surface structures create a link to the successful Manufacture collections from Villeroy & Boch.
The look of La Boule black & white unfolds its special effect in the play with opposites and contrasts. Black and white as colors as well as glossy and matte surface structures offer attractive stimuli for optics and haptics and attract attention in the interior area.
Among the subtle black-and-white looks, La Boule memphis boldly stands out. For the décor, Villeroy & Boch has given a modern interpretation to the style of the Milan-based "Memphis" designer group, which caused a sensation with its designs in the 1980s: Based on the unusual designs, which attracted attention with their contrasting colors, unusual combinations of materials and shapes and playful decorations in furniture, textiles and ceramics, the design of La Boule memphis is inspiring today. Black and white stripes meet color areas in orange, rosé and bordeaux. The result is an extraordinary eye-catcher – bold, full of character and self-confident.
For full screen please click on the corresponding photo:
BRAND: Villeroy & Boch
virtualdesignmagazine Michael Hiller