CULT CARS: The Basket Beetle from VW
Year of manufacture1971/1997Engine Four-cylinder boxer engine, air-cooledPower 50 hp / 37 kWCapacity 1584 ccmVmax 130 km/hThe Basket Beetle is proof that there are still no limits to creativity with the Beetle today. The idea goes back to a master basket maker from Saxony, who needed about 600 working hours to weave the individual vehicle parts. For this purpose, measurements were taken in advance so that the individual wickerwork parts could then be mounted on the car true to detail. Not only the outer body was covered with wickerwork, but also the side walls of the interior. The wickerwork around the Beetle shows on the one hand the different styles of the wickerwork craft and on the other hand testifies to precise and high-quality workmanship. The wagon is held in very high esteem in wickerwork circles. It is also very popular with visitors to the museum. However, it should only be driven in good weather, because otherwise the "bodywork" gets very dirty.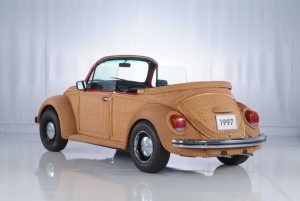 Year of construction
1971
Engine
4-cyl. boxer engine, air-cooled
Displacement1,584 cc
Power Output
50 hp / 37 kW
Maximum speed
130 km/h
81 mph
The only thing this saloon car has in common with the 1302 convertible is the
the engine in common. Between 1997 and 1999
1,000 hours of work between 1997 and 1999.
decorative basketwork using various weaving techniques.
basket ornamentation.
The hard work of the Upper Lusatian master basket maker
Thomas Heinrich was done purely on his own initiative. The
body was fitted with a total of 50 kg of wickerwork on a rattan frame.
of wickerwork on a rattan frame.
BRAND: Volkswagen AG
virtualdesignmagazine Michael Hiller