MOBILITY/CLASSIC: A classic with a lot of charm: the Citroën Méhari was presented on the Deauville golf course in 1968
Citroën celebrates the 55th birthday of the Méhari: Premiere was in May 1968
Legendary: The Méhari became an icon for Citroën and the entire automotive world
Cinema star: Actor Louis de Funès was also thrilled by the Méhari in "The Gendarme of Saint-Tropez".
Appealing: Its extraordinary design continues to fascinate entire generations to this day.
On 16 May 1968, almost exactly 55 years ago, in the midst of the French student protests on the golf course in Deauville, Citroën presented its latest vehicle: the Méhari – an atypical pick-up with 28 to 32 hp and an ABS (Acrylonitrile Butadiene Styrene) body, designed by Roland de La Poype. It was based on the Dyane 6 platform and was accordingly named the Dyane 6 Méhari when it was presented. For almost 20 years, from 1968 to 1987, 144,953 examples were built (including 1,213 Méhari 4x4s), a remarkable success for this unusual vehicle. The Méhari was mostly produced at the Citroën plant in Forest, Belgium, but also at seven other plants in France, Spain and Portugal.
AN OFF-ROAD AND UNIQUE VEHICLE
The unusual name Méhari is the name given to a dromedary in North Africa and the Sahara. These animals are known for their hardiness, their robustness and their reliability off-road. They are therefore frugal, enduring animals for any terrain that can transport people or goods. The name is therefore very apt for the Citroën model, which is synonymous with its adaptation to any terrain and many possible uses.
From the outside, the Méhari does not necessarily seem to be suitable for all seasons, as it looks more like a small convertible suitable for summer use. However, thanks to a rain and winter cover, the vehicle can also be used in more adverse weather conditions.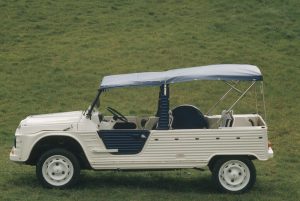 PRACTICAL, MODULAR AND ECONOMICAL
The Méhari is extremely modular: Part of the floor can be converted into a backrest, allowing two seats to be added in the rear. This allows up to four people to be seated in the vehicle. The Méhari can be used in a variety of situations, carrying a wide range of goods as well as passengers.
The body consists of only eleven easily repairable parts and can be cleaned with a simple water jet, both inside and out. This makes the car easy to maintain and also inexpensive for its customers.
The atypical, modular and economical vehicle, which scored with materials that were modern for the time and an innovative body, has become a real automotive icon over the years.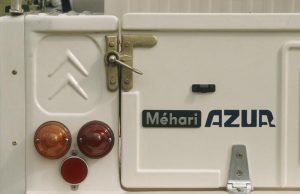 THREE MYTHICAL VERSIONS
Although it was produced for almost 20 years, there were only three different versions of the Méhari, including two limited editions. In 1983, two special editions were presented. The first was the Méhari Plage, with its holiday look and striking yellow colour, which was sold in Spain and Portugal. The other was the Méhari Azur, which was launched in April 1983 with only 700 examples on the French, Italian and Portuguese markets. In 1979, Citroën introduced a new variant, the 4×4 version, which offered a freedom that is still almost unrivalled today.
VERSATILE USE
The Méhari is a vehicle of particular interest to public administrations, including police, customs and airports, but also to businessmen, craftsmen and private individuals. It also has a long history with the French army, which ordered a total of 11,457 units between 1972 and 1987.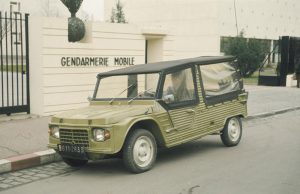 The Méhari 4×4 was also used for medical purposes. Thus, ten examples were posted along the route for medical purposes in the 1980 Paris-Dakar Rally. Finally, the Méhari had a notable cinema career, notably through the successful film "The Gendarme of Saint-Tropez" with the famous French actor Louis de Funès.
BRAND: Citroën/STELLANTIS
virtualdesignmagazine Michael Hiller