MOBILITY/MOTORCYCLE: For all those who want to refine their BMW R18 and R 18 Classic
Option 719 Design Package AERO.
The Option 719 Design Package AERO includes the cylinder head covers left and right, the front cover as well as the intake snorkel cover left and right. All parts are made of aluminium sheet with a brushed and colourless anodised surface. The cylinder head covers are adorned with filigree air vents reminiscent of the Streamliners of the 1920s and 1930s. The highlight is a badge on the front and side covers. It is made of solid copper, chrome-plated and partially covered with white lacquer. The white lacquer that covers the number sequence "719" is reminiscent of historical emblems that were lined with enamel at the time.
Option 719 seat.
For the new R 18 and R 18 Classic, the 719 seat option is a particularly exclusive alternative to the standard seat. In addition to the standard seat height, it is also impressive in terms of the choice of materials and workmanship. Two black upper materials are used, combined with diamond-shaped quilting.
An embroidered BMW logo and the 719 symbol on the side round off this exclusive seat.
Option 719 Paint Galaxy Dust metallic/Titanium Silver 2 metallic.
The Galaxy Dust metallic paint is a flip-flop paint that shimmers from violet to turquoise blue depending on the incidence of light. In addition, the many large effect pigments create an incomparable visual effect in sunlight. This special paint is combined with a titanium silver 2 metallic mirror on the tank. The transition between the two colour surfaces is shown by means of the hand-applied smoke effect familiar from the legendary R 90 S. In addition, a classic white double liner outlines the mirror surface.
Option 719 Wheels AERO and ICON.
The two Option 719 wheel sets AERO and ICON in the basic colours silver matt and black matt respectively provide a particularly noble and technically sophisticated appearance. These are cast alloy wheels in a six-spoke design. The milled filigree ribs of the spokes are a special eye-catcher. The milled areas give the aluminium a fascinating contrast to the paint colour of the wheels – hence the name Contrast Cut.
To the options:
Photoset 1:
https://virtualdesignmagazine.de/equipment-options-for-the-r-18-and-r-18-classic-2/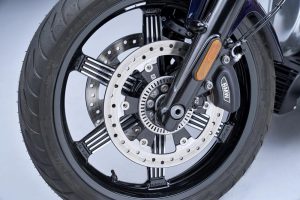 BRAND: BMW AG
virtualdesignmagazine Michael Hiller