DESIGN/AUTOMOTIVE FUTURE: A look into the future of Citroen

DS X E-TENSE: Vision of the French luxury car in 2035
Asymmetrical design, autonomous driving mode and a purely electric drive with up to 1,360 hp – the DS X E-TENSE is the vision of the French luxury car in 2035. DS Automobiles defines the dream car as a three-seater with an asymmetrical shape – a unique combination of two vehicles in one.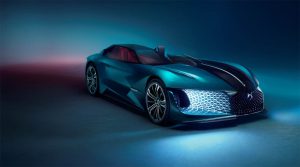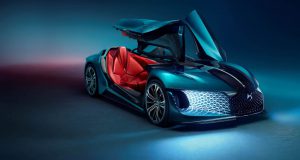 After opening the gullwing door on the left, the pyramid-shaped seat catches the eye. This adapts to the driver like a monocoque bucket seat. The steering wheel is made of leather, wood and metal. An intricately embroidered pearl pattern, which is one of DS Automobiles' trademarks, enhances the cockpit. The sound system by FOCAL® provides first-class high fidelity sound.
On the right, the butterfly door opens and the driver becomes a passenger. He takes a seat in a glass cocoon that envelops him and lets himself be driven to his destination in autonomous mode.
The electric drive of the DS X E-TENSE sets standards. The two motors are located in the front wheels and develop 400 kW (540 hp) of power on the road. A special mode for the race track increases the power to 1,000 kW (1,360 hp). In this case, the chassis developed by the DS Performance motorsport department comes into its own.
The bodywork is equipped with new technologies, it automatically brings itself back into shape after minor bumps. The front end with its radiator grille changes according to the driving situation. The DS LIGHT VEIL surface light and the air conditioning adapt to the needs of the occupants, the vehicle and the environment.
© DS Automobiles Communication
virtualdesignmagazine Michael Hiller