MOBILITY / MOTORBIKES: 13 different motorbike conversions in the BMW Customizing Contest 2022: The bikes in detail once again! Part 2
Thirteen BMW motorbikes were converted by thirteen BMW partners in Germany. Eight BMW R 18 and five BMW R nineT. Here you can see the conversions again in detail:
Part 2
ahg Eningen R 18 Edition
Really rideable, but still exciting – that was the motto for Ronny Jelitte, Bastian Franke and Max Koller when they built up their R 18 Edition #01. Including planning, parts procurement and conversion, the team invested a total of around 90 hours and the result was an R 18 in bobber style that has it all. The short, compact rear end lives from a Walzwerk Bobber Kit in conjunction with a side licence plate holder from Wunderlich and the Corio upholstery shop in Metzingen made a matching seat in Scotch-coloured buffalo leather. The good sound is provided by a Jekill & Hyde Beat Short Slashcut flap exhaust in conjunction with ceramic-coated exhaust manifolds. Black engine covers and add-on parts, the BMW Beachbar handlebar as well as headlight cover, hand lever and fuel filler cap in 2tone Black from the Original BMW Motorrad Accessories range round off the conversion. As the icing on the cake, the Petrolo company in Kusterdingen gave the R 18 Edition #01 a special paint job in 312 British Racing Green, which in combination with the Metzeler ME 888 Marathon Ultra White Wall tyres makes for a real feast for the eyes.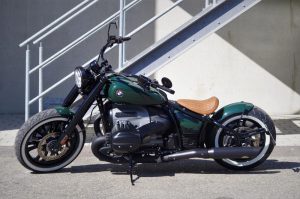 Procar Automobile GmbH & Co. KG R 18 Bloody Sunrise.
After numerous BMW R 18s were initially converted into so-called "bad bikes", the team from Procar Automobile in Cologne, together with mechatronics engineer Till Becker, wanted to go in the other direction and build a classy bike – with lots of chrome and polished surfaces as well as an exceptionally high-quality paint job that also includes the frame. The result was a chopper that, thanks to the work of Big Chief Custom Painting, plays in the premium league in terms of paint quality. All in red with coarse metal flake in 1970s customising style, complemented by airbrush work with stencilled scale and line patterns, the R 18 Bloody Sunrise not only lives up to its name but is also an absolute eye-catcher visually. So it's no wonder that a total of around 250 hours of work went into the project, especially as the technology was also subjected to drastic changes. Rick's Rad Design contributed the three-piece polished wheels measuring 3.5 x 21 inches at the front and 8 x 18 inches at the rear, while Walzwerk supplied the front mudguard and LMC-Bikes' Hardline 2 is used as the rear fender. Further stylish goodies of the R 18 Bloody Sunrise are the Wunderlich RockBob swinging saddle, the exhaust system from Walzwerk made of polished stainless steel and the handlebars built as a special design by LMC Bikes in conjunction with 1 ¼ inch high risers. The high-end chopper is rounded off by a tank conversion with integrated instrument, headlight lowering by KDF and 3-in-1 mini turn signals at the rear by Kellermann.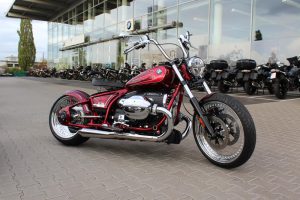 The other conversions coming soon!
BRAND: BMW AG
virtualdesignmagazine Michael Hiller
13 different motorbike conversions in the BMW Customizing Contest 2022: The bikes in detail again! Part 1
https://virtualdesignmagazine.de/13-different-motorbike-conversions-in-the-bmw-customizing-contest-2022-the-bikes-in-detail-again-part-1/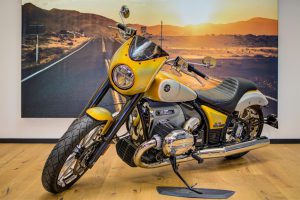 The winning bike of the 2022 Customizing Contest: The BMW R 18 Tansanit Titan! Created by the team of Cloppenburg GmbH
https://virtualdesignmagazine.de/the-winning-bike-of-the-2022-customizing-contest-the-bmw-r-18-tanzanit-titan-created-by-the-team-of-cloppenburg-gmbh/