MOBILITY / MOTORBIKES: 13 different motorbike conversions in the BMW Customizing Contest 2022: The bikes in detail once again! Part 3
Thirteen BMW motorbikes were converted by thirteen BMW partners in Germany. Eight BMW R 18 and five BMW R nineT. Here you can see the conversions again in detail:
Part 3
BMW R 18 Custombike der Motorrad Guhs GmbH
The name also says it all in the customising project of the Motorrad Guhs team around Taimo Frömel. "R 18 Steelbody" basically says it all, because wherever you look at the old-school R 18 built in the style of pre-war motorbikes, there is hardly an angle where the R 18 Steelbody, equipped with 16-inch wheels, does not appear with bright, finely ground steel. For example, on the tank or the customised front and rear ducktail fenders. The old-school theme is also emphasised by the customised Springer fork, and the technically savvy observer is hardly surprised that around 200 hours of work went into this project. After all, almost everything that was changed had to be customised in the same way as the Springer fork. For example, the side covers, which were made around 2 cm narrower, or the speedometer, which is now enthroned above the left cylinder with a specially made holder. The same applies to the swinging saddle with boxer engine and gold BMW emblem on the seat from Samwel Supplies or the mounting of the original BMW headlight on the Springer fork. Finally, the extremely harmonious appearance of the R 18 Steelbody is completed by a self-made handlebar, black-coated cylinder head covers and covers for the injection system, an LED tail light in bobber look, running boards with gearshift paddles as well as black-coated exhaust manifolds and a long Dr. Jekill & Mr. Hyde flap exhaust with fishtail end caps.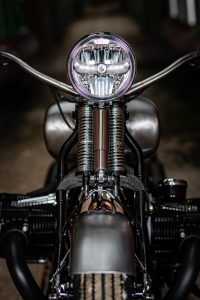 Motorrad Huber GmbH R 18 Huabas First Edition
Under the motto "Just do something completely different", the Motorrad Huber team around Michael Hauser had a lot of fun working on the bike and three days later the R 18 Huabas First Edition was standing on the original BMW spoked wheels with black rim rings. The rear end, however, has been significantly altered, with a fender and single seat made by Jacky's Garage, making it look much slimmer and reduced. A Z-handlebar from Fehling ensures a cool seating position and an exhaust system from Dr. Jekill & Mr. Hyde provides the right sound. Indicator lights from Kellermann and various machined BMW Motorrad parts round off the stylish conversion.
 The other conversions coming soon!
BRAND: BMW AG
virtualdesignmagazine Michael Hiller
13 different motorbike conversions in the BMW Customizing Contest 2022:
The bikes in detail again! Part 1
https://virtualdesignmagazine.de/13-different-motorbike-conversions-in-the-bmw-customizing-contest-2022-the-bikes-in-detail-again-part-1/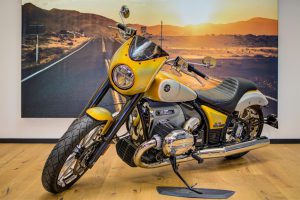 The bikes in detail again! Part 2
https://virtualdesignmagazine.de/13-different-motorbike-conversions-in-the-bmw-customizing-contest-2022-the-bikes-in-detail-once-again-part-2/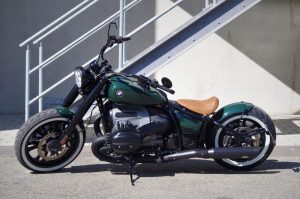 The winning bike of the 2022 Customizing Contest: The BMW R 18 Tansanit Titan! Created by the team of Cloppenburg GmbH
https://virtualdesignmagazine.de/the-winning-bike-of-the-2022-customizing-contest-the-bmw-r-18-tanzanit-titan-created-by-the-team-of-cloppenburg-gmbh/