MOBILITY/DESIGN: The study of the Maybach Coupé
Stuttgart/Pebble Beach. Every year in August, the worldwide classic car fan community meets in Pebble Beach, California, for a beauty contest of a very special kind. The summit meeting of the finest classic automobiles is the ideal premiere venue for the exclusive Vision Mercedes-Maybach 6, a sensational luxury coupé. The 2+2 seater pays homage to the glorious days of aero coupés and confidently carries this tradition into the future. The coupé reinterprets classic-emotional design principles in an extreme way and thus follows the Mercedes design philosophy of sensual clarity.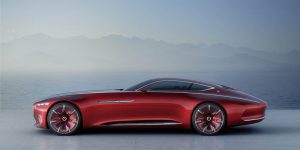 The almost six-metre-long Vision Mercedes-Maybach 6 is designed as an electric car. The power of the drive is 550 kW (750 hp). The flat battery in the underbody enables a range of over 500 kilometres according to NEDC (over 200 miles according to EPA).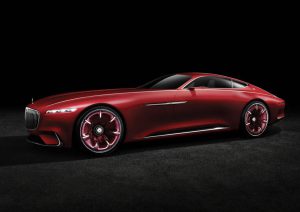 The large coupé celebrated its premiere at the Monterey Car Week, which took place on the Monterey Peninsula from 16 to 21 August 2016. The Vision Mercedes-Maybach 6 embodies ultimate luxury with its sensual-emotional design ("hot") and intelligent details ("cool"). The classic aesthetic proportions of the show car – the extremely long bonnet, the low roofline and the set-back greenhouse – are reminiscent of the aero coupés of earlier times. Nevertheless, this is not retro design, but a reinterpretation of classic aesthetic principles.



At the same time, the design is something unexpectedly new – cool, technoid and reduced. The aerodynamically intelligent basic shape is an example of this. Even without aids such as spoilers, the airflow stays on the vehicle body for a long time and only breaks off late at the end of the vehicle. The technoid character of the narrow lights, the partially transparent rims and the two-part rear window are equally surprising.
"Our glamorous coupé, the Vision Mercedes-Maybach 6, stages an ultimate modern luxury. It is hot & cool" , says Gorden Wagener, Head of Design Daimler AG. "Because with intelligent beauty and a reduced, technoid appearance, it perfectly embodies our design philosophy of sensual clarity as well as our demand for aerodynamic efficiency."
Pictures of the study of an extravagant luxury-class coupé: Ultimate Luxury: Vision Mercedes-Maybach 6
https://virtualdesignmagazine.de/infinite-widths-the-mercedes-maybach-6-coupe-study-comes-with-infinite-length/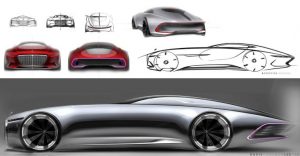 BRAND: Daimler AG
virtualdesignmagazine Michael Hiller