MOBILITY / MOTORBIKES: 13 different motorbike conversions in the BMW Customizing Contest 2022: The bikes in detail once again! Part 6
Thirteen BMW motorbikes were converted by thirteen BMW partners in Germany. Eight BMW R 18 and five BMW R nineT. Here you can see the conversions again in detail:
Part 6
Zweiradwerke Vertriebs GmbH R nineT Boxermeister
With its orange paintwork and numerous lettering and stickers, the R nineT Boxermeister lives up to the motto "classic meets modern" with a good shot of inspiration from racing cars of the 1970s and 1980s, such as the BMW M1 Procar Jägermeister, which Kurt König drove in the German Racing Championship in 1982. Inspired by this, Christopher Hagl and Robert Dojkic created the Boxermeister in around 90 hours. Emphatically sporty, of course. They used golden wheels from AC Schnitzer in combination with Metzeler Racetec RR 190/55 ZR17 at the rear and 120/70 ZR17 at the front. The bumpers and front fender, on the other hand, were made in-house. A sporty sound is provided by an exhaust system from Jekill and Hyde and a dynamic seating position is provided by the AC Schnitzer handlebar stubs Clip in conjunction with the BMW Motorrad Option 719 footrests – harmoniously complemented by BMW Motorrad cylinder head covers in the style of the old two-valve motorbikes and a lamp mask and front spoiler from Ilmberger Carbon. Last but not least, the two enthusiasts gave the boxer master handlebar end indicators from Motogadget, tail lights and a side number plate holder from Rizoma and suspension elements from Öhlins.
Motorrad Witzel R nineT Green Mile.
Volker and Steven Witzel put a whole 120 hours of work into converting an R nineT into a Green Mile and thus into a so-called dirt bobber. The two benefited from their customising experience from previous R 18 conversions. As the name suggests, the custom bike is based on the film "The Green Mile" starring Tom Hanks and Michael Clarke Duncan alias John Coffey and is painted in British Racing Green. The team is convinced that the seemingly overpowering masculine appearance of the film character Coffey, as with the R nineT Green Mile, is "in absolute contrast to the outer appearance". However, the cinematic inspiration was not only implemented with green paint, but also with plenty of technical changes. BMW Motorrad Option 719 milled parts packages 1 and 2 were used, a single seat with green decorative stitching from Baehr and RF Biketech fenders front and rear, complemented by integrated indicator and rear lights and a side number plate holder. A sonorous boxer sound is provided by an SP Cobra exhaust in combination with black ceramic-coated manifolds. For good handling characteristics despite the coarse tread, the team opted for Continental TKC 80 tyres.
 The other conversions coming soon!
BRAND: BMW AG
virtualdesignmagazine Michael Hiller
13 different motorbike conversions in the BMW Customizing Contest 2022:
The bikes in detail again! Part 1
https://virtualdesignmagazine.de/13-different-motorbike-conversions-in-the-bmw-customizing-contest-2022-the-bikes-in-detail-again-part-1/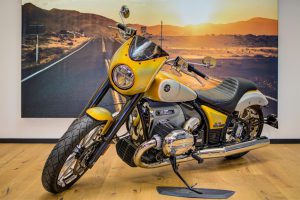 The bikes in detail again! Part 2
https://virtualdesignmagazine.de/13-different-motorbike-conversions-in-the-bmw-customizing-contest-2022-the-bikes-in-detail-once-again-part-2/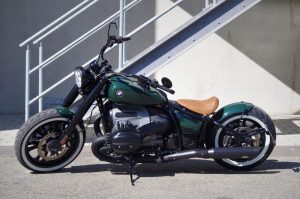 The bikes in detail again! Part 3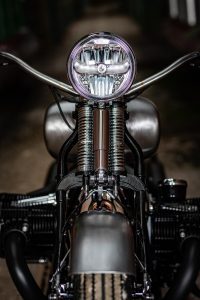 The bikes in detail again! Part 4
The bikes in detail again! Part 5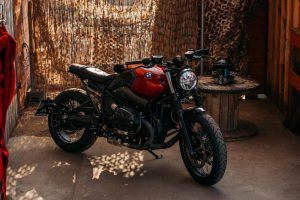 The winning bike of the 2022 Customizing Contest: The BMW R 18 Tansanit Titan! Created by the team of Cloppenburg GmbH
https://virtualdesignmagazine.de/the-winning-bike-of-the-2022-customizing-contest-the-bmw-r-18-tanzanit-titan-created-by-the-team-of-cloppenburg-gmbh/