MOBILITY / MOTORBIKES: 13 different motorbike conversions in the BMW Customizing Contest 2022: The bikes in detail once again! Part 4
Thirteen BMW motorbikes were converted by thirteen BMW partners in Germany. Eight BMW R 18 and five BMW R nineT. Here you can see the conversions again in detail:
Part 4
BMW R 18 Custombike vom Motorradzentrum Helmig und Sohn
The R 18 fifty-seven is a sporty, modern chopper with a boxer's heart and the traditional Nürburg Green paintwork from the 1970s. The stylish one-off was created in around 18 hours at the Helmig & Sohn motorbike centre with the addition of fine technical ingredients. Walzwerk supplied both the front and rear fenders as well as the stylish bobber seat and the handlebar called Hardcore Bar. A sporty exhaust system made of high-quality stainless steel was provided by the renowned exhaust specialist Hattech.
Auer Gruppe GmbH R nineT Beemer
With its unusual colour combination in the racing Gulf scheme of the 1960s and 1970s with matt blue, as well as glossy orange and white, the R nineT Beemer immediately catches the eye. The conversion was planned and thought out by sales consultant Maximilian Michael Walden, and implemented by the strong team around Bernd Wesle and Dario Gatto. All in all, the crew invested around 20 hours in the bike and did not skimp on high-quality ingredients. While the spoked wheels come from the series, Königherz made a seat including hump padding from leather and Alcantara with diamond stitching and double stitching. Exhaust specialist Hattech, on the other hand, customised a high-mounted exhaust system. Further highlights are the K&N air filter dummies, the reduced rear with mini turn signals and side number plate holder as well as the handlebar end mirrors without mirror glass with integrated turn signals as well as the Belly Pan by AC Schnitzer and the milled fuel filler cap with BMW emblem. The well-deserved reward of around 20 hours of work: The smart custom bike was sold after just two days.
 The other conversions coming soon!
BRAND: BMW AG
virtualdesignmagazine Michael Hiller
13 different motorbike conversions in the BMW Customizing Contest 2022:
The bikes in detail again! Part 1
https://virtualdesignmagazine.de/13-different-motorbike-conversions-in-the-bmw-customizing-contest-2022-the-bikes-in-detail-again-part-1/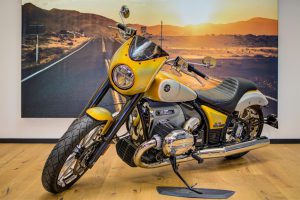 The bikes in detail again! Part 2
https://virtualdesignmagazine.de/13-different-motorbike-conversions-in-the-bmw-customizing-contest-2022-the-bikes-in-detail-once-again-part-2/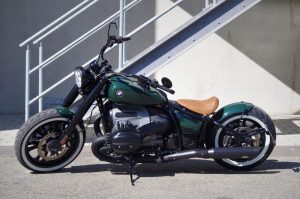 The bikes in detail again! Part 3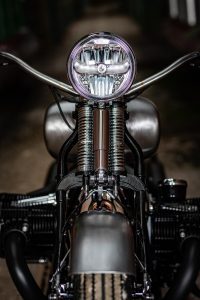 The winning bike of the 2022 Customizing Contest: The BMW R 18 Tansanit Titan! Created by the team of Cloppenburg GmbH
https://virtualdesignmagazine.de/the-winning-bike-of-the-2022-customizing-contest-the-bmw-r-18-tanzanit-titan-created-by-the-team-of-cloppenburg-gmbh/